Zucchini isn't just for low carb noodles anymore. This amazing vegetable can be easily transformed in your oven to make baked zucchini chips for keto snacks.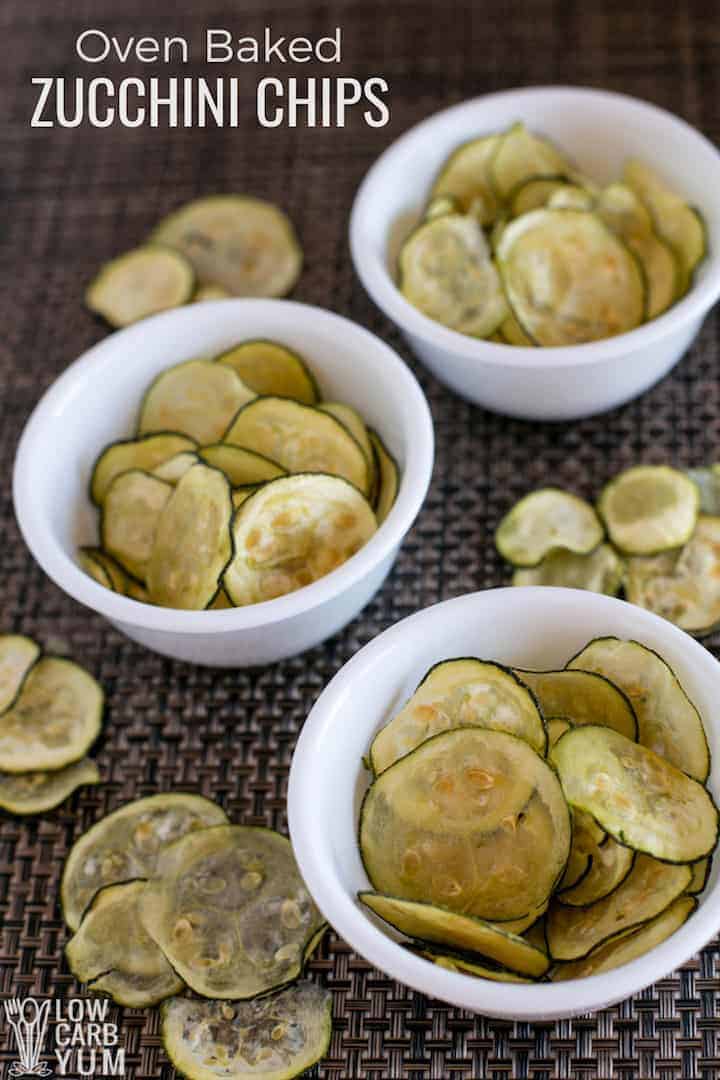 Why are zucchinis so ubiquitous these days?
It's not like you'd sink your teeth into it raw. But when you spiralize them and heat them in a frying pan with some olive oil, they transform from a dull squash into a delectable healthy noodle alternative.
And as you'll see, when you slice them up into silver dollar size pieces and bake them in the oven for a couple hours, they become tasty potato chip healthy alternatives.
Now before I begin teaching you how to make baked zucchini chips, let's examine what's the big deal about this veggie in the first place.
After all, I can just tell you how to make kale chips. Or even cucumber chips.
(I can't believe in all this time I've operated this low carb blog [since 2010] I have yet to add a recipe for kale chips! What do you think … should I add one? Let me know in the comments section. For goodness sake I even have a recipe for radish chips. Radish chips but not kale chips, that's just wacky.)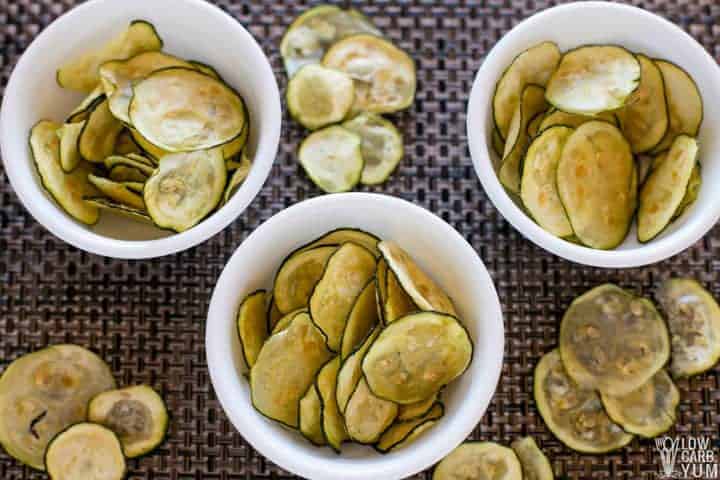 Zucchini: Nutrient-Dense, Low-Starch Veggie Perfect for Baking
Low starch veggies contain relatively few calories but have lots of nutrients. "Zukes" have lots of vitamin C, which isn't a nutrition fact that many people are aware of.
Most people think of citrus fruits when they think of vitamin C or peppers. But zukes contain over 50 percent daily value of vitamin C.
There's also a respectable amount of vitamin B6 (over 20 percent DV) and manganese.
I know manganese is a trace mineral. But I forgot why it's important for health, so I looked it up.
It turns out that it's involved in several important roles.
It's crucial for brain function, connective tissue and bone formation, blood-clotting, and creating sex hormones.
In addition, manganese breaks down fats and carbs, and helps normalize blood sugar levels.
Zukes also have a decent amount of riboflavin, potassium, folate and vitamin K.
With all these nutrients, zukes help fight oxidative damage. You can think of oxidative damage as death by 10,000 paper cuts.
Just one paper cut doesn't do much damage but 10,000 bleeding holes will drain your life away. Likewise, the myriad free radical threats we face on a daily basis, from breathing car fumes and being exposed to chemicals in plastics, etc….
Thus, zukes are key in fighting disease and premature aging.
So think about that when you're enjoying this healthy snack.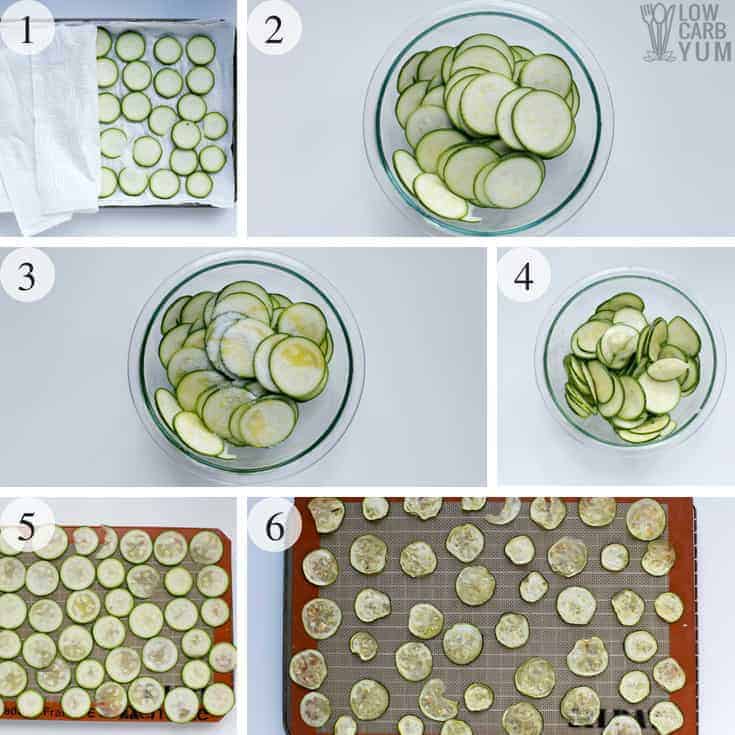 How to make baked zucchini chips
Now that you know why zuke is so good for you, let's transform them into something palatable.
I highly doubt that you'd ever want to just snack on them raw, so let's turn them into a tasty app.
To begin, slice two medium-size zukes into thin, round pieces. For best results, use a mandoline slicer.
After the slicing is done, remove any excess moisture from the veggie by placing the slices between sheets of paper towels (photo 1). I like to put them in the fridge for at least a couple hours. You can place them in the humidity-controlled shelf. Just remember, for tasty chips, the drier the better.
Now that your zuke slices are bone dry, place them in a large mixing bowl (photo 2). Add one tablespoon of olive oil and half a teaspoon of sea salt to the bowl (photo 3).
Now, gently toss the bowl so that the slices are coated with the oil and salt (photo 4).
From here, lay the zuke slices on parchment paper. You can also use a silicone baking mat lined rack (photo 5). Either way, place on top of the baking pan.
Set the oven on bake for 225 and cook for 2 hours. If not yet crispy, keep checking every 15 minutes or so until the desired crunch factor is reached (photo 6).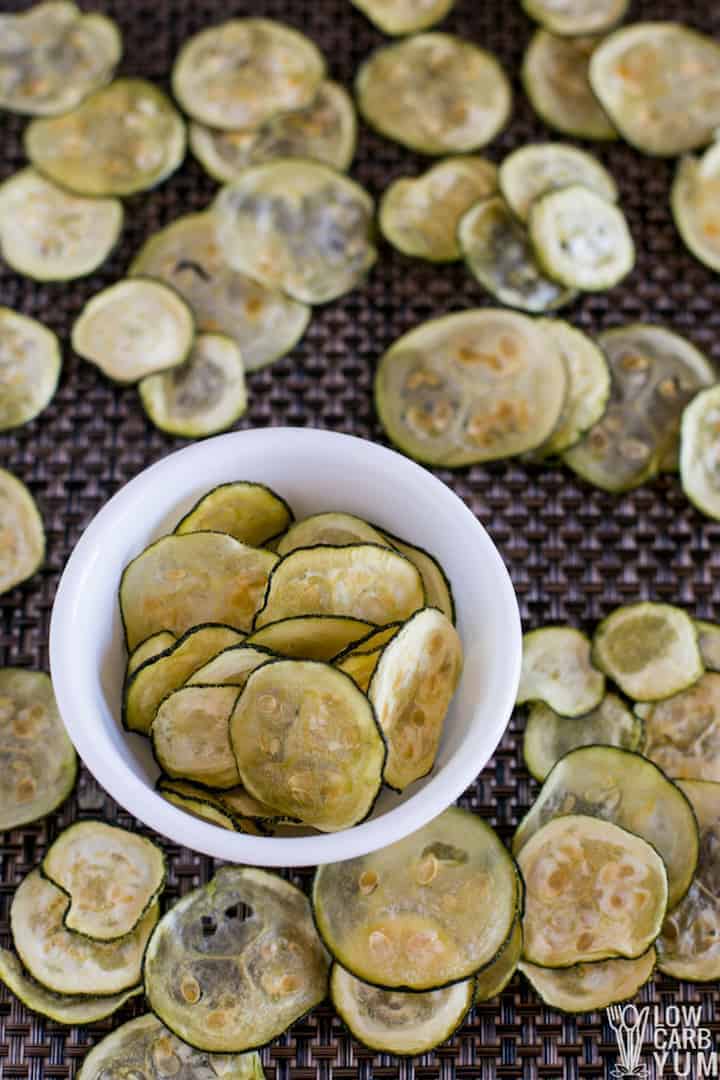 Zucchini Chips: The ultimate in healthy snacking
Certain activities lend themselves to snacking. Binge-watching your favorite show? Gotta have a snack. And popcorn just won't do all the time.
Don't get fooled by regular baked chips. They are made with veggie oils that are cheap and contribute to heart disease, and other chronic problems caused by inflammation.
And if you have three kids like I do, who need constant stimulation, healthy snacks are a must. I realize kale chips are everybody's go-to option but I wanted to offer you another alternative.
Because after all, the kale craze may one day fade away. What's going to replace it? Zucchini zealousness!
Studies show that eating zukes might improve eye, thyroid and adrenal function.
Your best friend for making baked zucchini chips is a mandoline slicer. This is a must-have contraption in my kitchen. It's got a sharp, V-shaped stainless steel blade. It makes slicing veggies so much easier.
If you have a sharp knife, you might be wondering why a mandoline slicer is even necessary. But after you use its adjustable settings and create perfectly-shaped uniform chips, you'll know why it's so awesome to use.
Here's a good mandoline slicer you can buy on Amazon that also contains a spiralizer. So now you can have your noodles and eat your chips, too!
Have you ever made zucchini chips before? How did they turn out? Let me know. Leave a comment.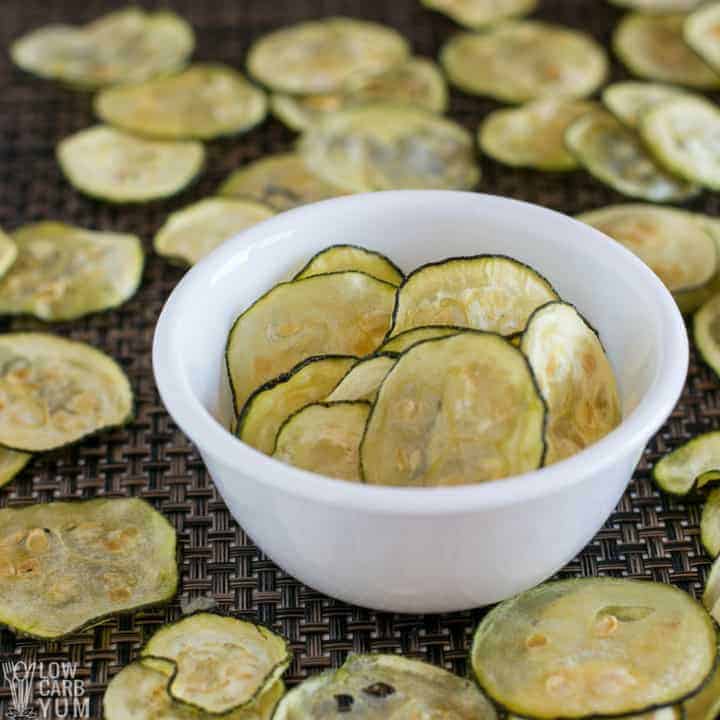 We hope you enjoy this easy keto snack recipe. And if you do give the recipe a try, we'd love to hear what you think in the comments section below.
Baked Zucchini Chips
Zucchini isn't just for low carb noodles anymore. This amazing vegetable can be easily transformed in your oven to make crunchy chips for keto snacks. 
Total Time
3
hours
10
minutes
Ingredients
2

medium

zucchini

1

tablespoon

oil

1/2

teaspoon

salt
Instructions
Slice zucchini into thin rounds with a mandolin slicer.

Place zucchini slices between paper towels to remove excess moisture. Allow to sit in the refrigerator for at least 2 hours. The drier the better.

Combine the zucchini slices, oil, and salt in a large bowl. Toss to coat.

Lay zucchini slices on a parchment paper or silicone baking mat lined rack on top of a baking pan. (I find raising the slices off the bottom of the pan helps to crisp them up faster with the air underneath)

Bake at 225°F for 2-3 hours or until zucchini slices have reached desired crispness.
Need Support?
Get our FREE Low Carb Tips eBook or join the Low Carb Yum Facebook Group for help with recipes and weight loss support!
Notes
Be sure to remove as much moisture from the zucchini as possible before baking. Salting the zucchini slices usually helps them to release the liquid faster.
Nutrition
Nutrition Facts
Baked Zucchini Chips
Amount Per Serving (0.25 recipe)
Calories 47
Calories from Fat 27
% Daily Value*
Total Fat 3g
5%
Saturated Fat 0g
0%
Cholesterol 0mg
0%
Sodium 298mg
12%
Potassium 255mg
7%
Total Carbohydrates 3g
1%
Dietary Fiber 0g
0%
Sugars 2g
Protein 1g
2%
Vitamin A
3.9%
Vitamin C
21.3%
Calcium
1.6%
Iron
2%
* Percent Daily Values are based on a 2000 calorie diet.
Note on Nutritional Information
Nutritional information for the recipe is provided as a courtesy and is approximate only. We cannot guarantee the accuracy of the nutritional information given for any recipe on this site. Erythritol carbs are not included in carb counts as it has been shown not to impact blood sugar. Net carbs are the total carbs minus fiber.
About Lisa

Lisa has been creating low carb recipes for herself and sharing them with others since 2010. She loves to experiment in the kitchen and find new ways to create low sugar foods that taste like high carb favorites! Her recipes have been featured on popular magazine sites including Fitness, Shape, Country Living, Women's Health, and Men's Health. Lisa lives in Southeastern Connecticut. Connect with her and Low Carb Yum at:
© LowCarbYum.com
Unauthorized use and/or duplication of this material without express and written permission from this site's owner, Lisa MarcAurele, is strictly prohibited.
Excerpts, single photos, and links may be used, provided that full and clear credit is given to LowCarbYum.com with appropriate and specific link back to the original content.
Related Posts