When you think of dill dijon mustard sauce, you likely don't think of adding almond milk. But this version uses it to lessen carbs while keeping it creamy.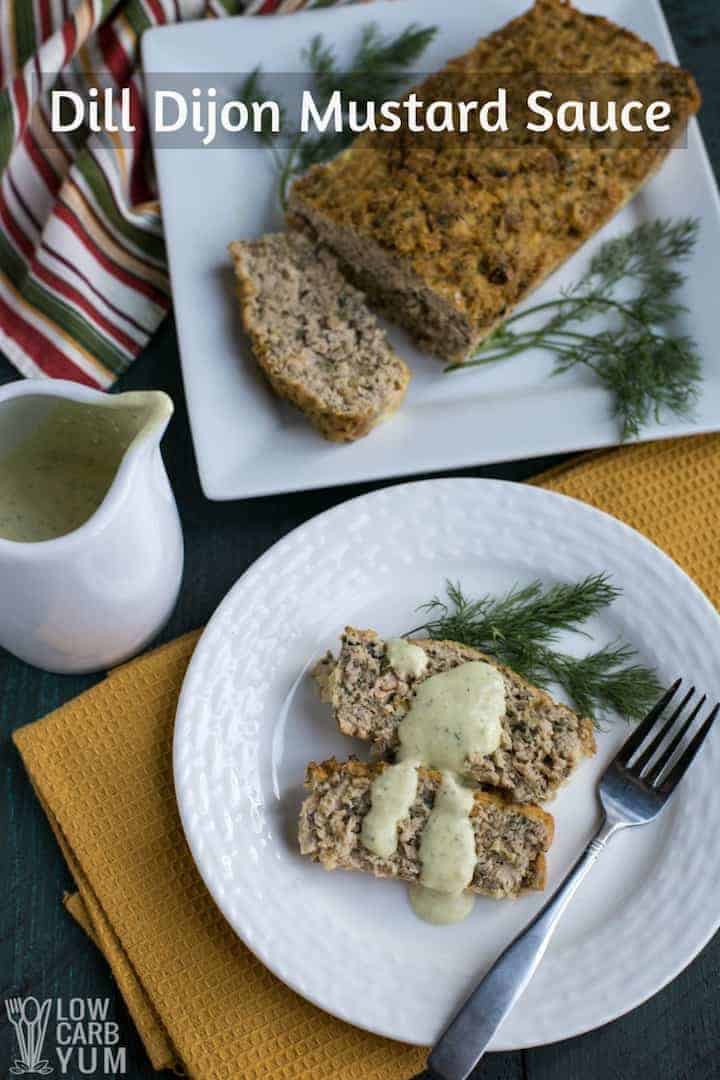 Besides tasting delicious in my opinion, one reason I make this topping for salmon fillets and 
keto-friendly salmon patties is because it's healthy. 
In fact, did you know that regularly consuming mustard may prevent cancer? The seeds from the plant have even been been found 
inhibit bladder cancer
.
Now I know what you might be thinking  … the sauce is a condiment, not a plant. Well, that is true. However, you can't make the sauce without the seeds in the first place, right?
To make it into a condiment, the whole seeds are grounded or cracked and mixed with water, vinegar, lemon juice, or other liquids, along with salt and other flavorings.
Just like with any other food, not all mustard is created equal. Cheap varieties are heavily processed and watered down.
But the highest-quality ones preserve many of the anti-oxidants in the seeds. And the seeds also demonstrate the ability to
suppress colon cancer
.
Out of all the countries in the world, Japan has the second highest life expectancy (behind tiny Monaco). Is it a coincidence Japan also has one of the highest consumption rates of mustard seed? Me thinks not.
Is a squirt of the condiment on a hot dog going to prevent cancer? Me thinks definitely not. Especially if the hot dog is from nitrate and nitrite pork.
However, if you make this dill dijon mustard sauce like I've prepare it and buy a high quality bottle, I think it can be considered part of your superfood arsenal.
And before I share with you how easy it is to make, I'm going to geek out on some interesting facts about this plant.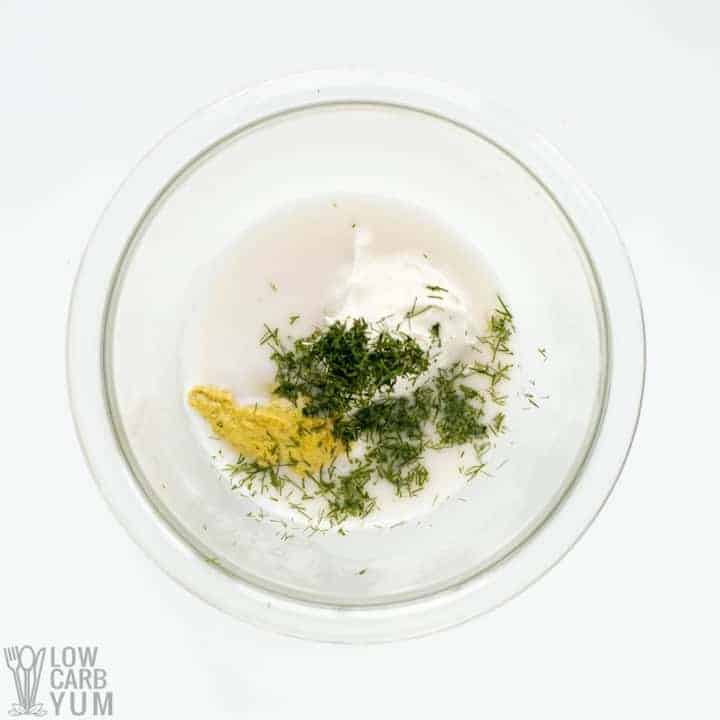 Facts About This Condiment To Enliven Any Dinner Party
Did you know that it's related to broccoli? I had no idea. It turns out the seeds that turn into the yellow sauce are relatives of turnips and cabbages as well.
Now most people associate it with what you slather on hot dogs. But that's the American version, which comes from the white seeds.
As for this recipe, Dijon comes from black seeds, which contributes to the richer, more pungent flavor. And the use of it in cooking far precedes its use in American kitchens. In fact, it's a parable in the Bible.
The parable does not reference hot dogs, specifically, but the seeds. This is from the Gospel of Matthew:
"The Kingdom of Heaven is like a grain of mustard seed, which a man took, and sowed in his field; which indeed is smaller than all seeds. But when it is grown, it is greater than the herbs, and becomes a tree, so that the birds of the air come and lodge in its branches."

— Matthew 13:31–32
It was the clever ancient Romans who were the first to grind the spicy seeds into a spreadable paste. They were also first to mix them with wine or vinegar.
But the use of the seeds goes back millennia before the Romans. This cooking blog suggests it dates back to 4000 B.C.E. in China.
During medieval times, French monks mixed the ground seeds with grape must (unfermented wine). This is what coined the term, mustard. [SOURCE]
The genesis of its use in America dates back to Thomas Jefferson, who planted them on his Virginia estate after bringing them back from France.
Health Benefits of Dill Dijon Mustard Sauce
Mustard seed spice is rich in several minerals, including phosphorous, calcium, magnesium and potassium. It's also very high in selenium, manganese and thiamin.
And another reason why it's good for you besides its cancer-fighting properties is it can help lower cholesterol. Moreover, it can also help lower blood sugar levels.
Before I share the recipe with you, here's one more thing I never knew about it: it's not naturally yellow.
Turmeric spice is added to the paste to give it that American yellow coloring. Without the turmeric, though, it's naturally brownish or pale yellow in color.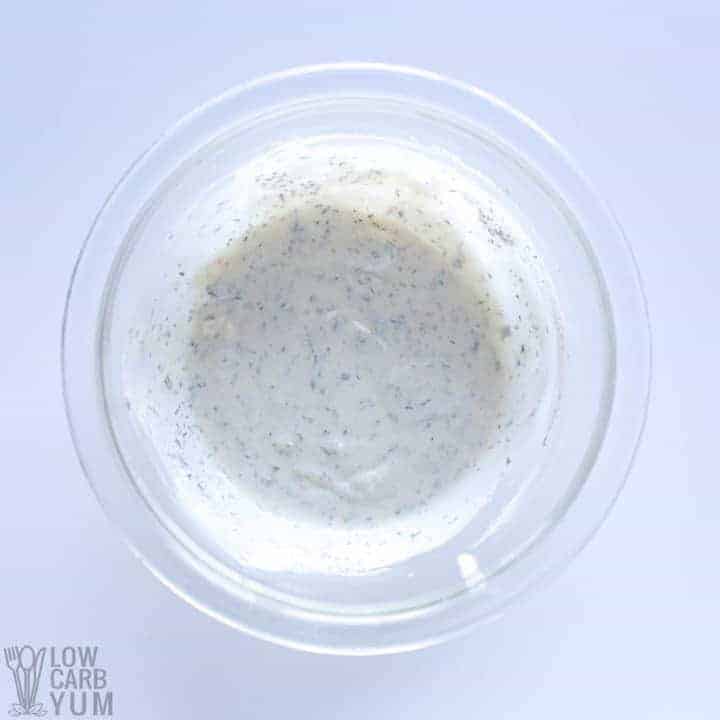 How to make a quick dill dijon mustard sauce
Here's my simple recipe. You'll need:
cream cheese (Kite Hill or 

Daiya 

dairy free cream cheese spread works well too)
almond milk
dijon mustard
garlic
lemon juice
fresh dill
To make it, just grab a small bowl and whisk together all the sauce ingredients. Make sure you allow it to chill a little bit before serving.
The combination of a chilled Dijon with a warm salmon fillet is heaven.
To make a creamy dill dijon mustard sauce without so much dairy, I use almond milk. I realize that my recipe also uses cream cheese, which is technically dairy.
Obviously, if you have a dairy allergy, you can't eat cream cheese. If you're allergic, you can use Kite Hill or Daiya cream cheese, which are both vegan-friendly. 
Another way this recipe is different from most other Dijon sauces is I don't use red wine vinegar in this one. I find that the garlic, lemon juice and dill provide enough flavor without the acidic red wine vinegar.
And as a low carb eater, I definitely don't use sugar.
Mustard sauce uses
In addition to salmon, you can use this condiment for potato salad, barbecue sauces, and salad dressings.
It's definitely better for your health than ketchup with high fructose corn syrup. And you can also use it as a surrogate for mayo.
But if you do have a sweet tooth, you can always make this dill dijon with honey.
I bet it would go really good with my recipe for Amish Broccoli Cauliflower Salad With Bacon!
What other recipes do you like to add it to? And do you have a favorite variety? Do you like the classic American variety or do you like a pungent Dijon?
Share your thoughts about America's second-most popular condiment (behind pepper). Leave a comment below….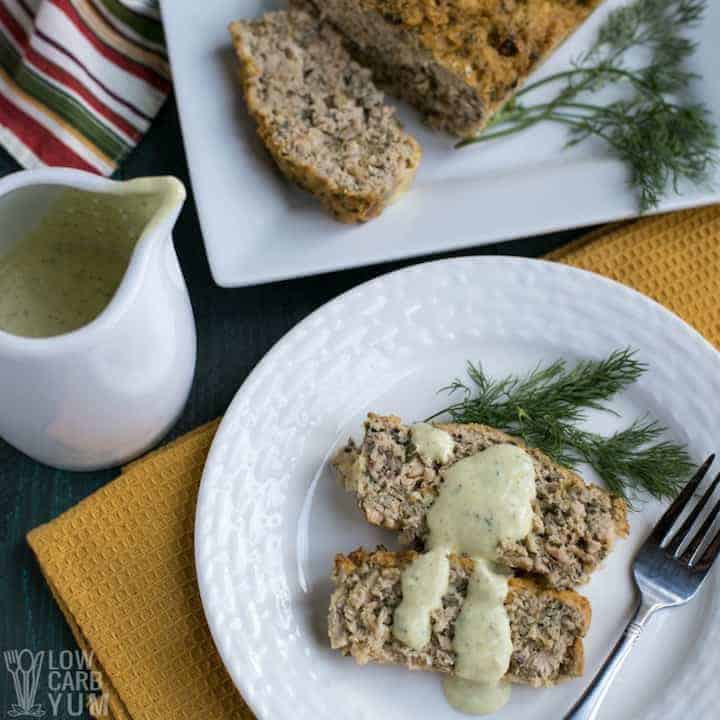 Enjoy this quick and easy recipe!
Dill Dijon Mustard Sauce
When you think of dill sauce, you likely don't think of adding almond milk. But this version uses it to lessen carbs while keeping it creamy. 
Ingredients
1/4

cup

cream cheese

Use Kite Hill or Daiya for dairy-free

1/4

cup

almond milk

1

tablespoon

dijon mustard

1

clove

garlic minced

1

tablespoon

lemon juice

2

teaspoons

fresh dill
Need Support?
Get our FREE Low Carb Tips eBook or join the Low Carb Yum Facebook Group for help with recipes and weight loss support!
Notes
Coconut milk or a mix of heavy cream and water can be used if you have a nut allergy.
Nutrition
Nutrition Facts
Dill Dijon Mustard Sauce
Amount Per Serving (2 tablespoons)
Calories 44
Calories from Fat 36
% Daily Value*
Total Fat 4g
6%
Saturated Fat 2g
10%
Cholesterol 12mg
4%
Sodium 86mg
4%
Potassium 15mg
0%
Total Carbohydrates 1g
0%
Dietary Fiber 0g
0%
Sugars 0g
Protein 0g
0%
Vitamin A
3%
Vitamin C
1.6%
Calcium
2.6%
Iron
0.5%
* Percent Daily Values are based on a 2000 calorie diet.
Note on Nutritional Information
Nutritional information for the recipe is provided as a courtesy and is approximate only. We cannot guarantee the accuracy of the nutritional information given for any recipe on this site. Erythritol carbs are not included in carb counts as it has been shown not to impact blood sugar. Net carbs are the total carbs minus fiber.
About Lisa

Lisa has been creating low carb recipes for herself and sharing them with others since 2010. She loves to experiment in the kitchen and find new ways to create low sugar foods that taste like high carb favorites! Her recipes have been featured on popular magazine sites including Fitness, Shape, Country Living, Women's Health, and Men's Health. Lisa lives in Southeastern Connecticut. Connect with her and Low Carb Yum at:
© LowCarbYum.com
Unauthorized use and/or duplication of this material without express and written permission from this site's owner, Lisa MarcAurele, is strictly prohibited.
Excerpts, single photos, and links may be used, provided that full and clear credit is given to LowCarbYum.com with appropriate and specific link back to the original content.
Related Posts